Mentors Scrapbook vol. 1 & 2
Mentors Watch

Also: Sickie Wifebeater played on the Jester's of Destiny album entitled "Fun at the Funeral"
The Mentors have existed and have cranked out quality tunes since about 1976 (though at that time they played mostly live with no releases, and jammed right up until frontman/vocalist/drummer El Duce's untimely death (he was struck by a train while severely intoxicated). Backed up by the genius guitar of Sickie Wifebeater and the thumpin bass of Dr. Heathen Scum, the Mentors put out a fine assortment of good ol` beer drinkin/partying grimy rock n roll, and have released a variety of side projects from its members. Though some may be turned off by the production of some of the recordings (mostly the side releases), many will come to realize there are many kick ass tunes on these releases. I don't care if it is crystal clear production, or El Duce and Scum rockin in a basement recording with some piece of shit recorder, they still rock. At times, the "raw" feel can add to the effect, especially when we are talking about a bunch of no-frills crusty rock n' rollers such as the Mentors. Many would claim that their heyday was in the early to mid 80's, but those of us who stuck around were treated to many later releases, mostly on their independant Mentors record label. Most of these releases can be obtained directly from the Mentors web site. Duce was one hell of a drummer and the same can be said of the other band members. I hope you find these reviews informative.
---
MENTORS REVIEWS

MENTORS WORKS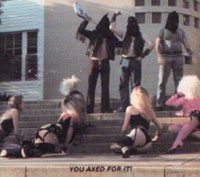 YOU AXED FOR IT!
This album should be in the hands of anyone who is a fan of metal music. Originally released in 1985, it has just been re-issued with bonus tracks, so there is no excuse to not pick up a copy. It is also probably their best selling release. It has the ever so classic "Four F Club"(which has been covered by Pungent Stench....awesome), along with the ever so controversial Golden Showers (remember the 1985 PMRC senate hearings where this was sited as one of the most disgusting rock acts ever....Yeash!), and my personal favorite of the disc, Sandwich of love (killer guitar courtesy of Mr. Wifebeater). This album stands right up aqainst its metal brothers of that era, including Metallica and Venom. Full out classic metal assault, full of smoking leads and filthy lyrics. Also Contains Free Fix, Sleep Bandits, and a slew of other Mentors classics. The production and musicianship is top notch. This is a great cd to pick up if you've never checked out the band and are interested in some quality porn rock. Try to pick up the Maximum Metal re-issue, which contains 4 bonus tracks: In and out of you, sex education, leave you for the vultures, and wine you dine you, 69 you. Sex education has never been released before, and is a cool song. In and out of you and wine you dine you have been released on the houses of the horny demo, but here the production is much better.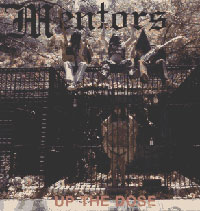 UP THE DOSE!
This album was the follow up to You Axed For It, and believe me, this one rocks. It is not quite as heavy as the previous album, but thats one great thing about the mentors' music....each album sounds distinctly different from the other(sure, Duce's vox are usually quite similar from album to album, but how can you get tired of that)? This album shoots more towards party down style hard rock than straight up metal, but they do it just as well. Production here is excellent, as is the music. Kick ass solos, thumpin' bass, and rockin drums are what you hear. Kick it on Down will have ya throwin beer around the place, while couch test casting will have ya singin right along.."You wanna go to Hollywood, to be a star...have sex with me and you'll go real far......." (one of my favorite Duce vocal parts). It's hard to say who they sound like because I don't think anyone sounds like them.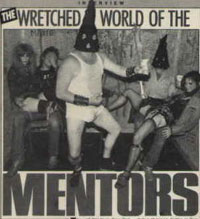 ROCK BIBLE
This is a very different sounding mentors album, even a bigger difference than between their previous albums. Mentors associate Insect on Acid plays drums on most of the album, and his style is recognizably different from that of El Duce's. He doesn't rock nearly as well as Duce, and much of the music on here is second rate Mentors. Most of the drumming consists of a repetitive quick high hat smacking style, and less of the jazzy duce thumpa-pa-tap-pa-tap-pa-tipap style (gotta love the description). Another noticable difference is sickie's guitar-playing. He spends lots of time on the songs soloing behind the bass rythmn, which sometimes can wear thin because of either a lack of rythmn guitar (though he does perform some good solos), or the overall lesser quality of the songs (though I have heard that all of the guitar is in fact, no Sickie, anyone who knows for sure please fill me in). This album does contain Hilljack Heaven, one of the rockinest and funniest Mentors tunes, and also Jump Through the Hoops, another top notch Mentors song. This album is definately of lesser quality other Mentors recordings, I sould assume because of the lack of El's contributions, and probably other drug and non drug related struggles within the band. The best songs are the ones where Duce drums on. It is still recommended to Mentors fans however, since there are some great rape rocking moments on here, though it won't give you the satisfaction of their other releases.
TO THE MAX
This is probably the heaviest of Mentors releases (other than maybe, You Axed for It), and also one of Duce's best drum performances. This album is the last album that the Mentors did together, and it rocks like a motherfucker. This is one of those albums that you can play over and over again, and it still feels fresh each time you hear it. The production is good, the lyrics are funny and sick, and the riffs are killer. Songs like "When You're Horny, You're Horny", and "Donkey Dick" are likely to both get the crowd moshing and laughing. Thankfully, Heathen Scum and Duce put together some combined efforts after this, so as to keep the Mentor rockin going until Duce's death, though I would have liked to see more contributions from Sickie on those(he really is one hell of a guitarist). Unlike so many other bands, however, the Mentors did not leave us with a pile of shit as their last offering, as this one should stand the test of time for all who have any appreciation for dirty, filthy, and disgusting good ol' rock n' roll.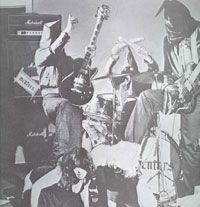 GET UP AND DIE + LIVE IN FRISCO 7"
This is the legendary first release from the Mentors, previously known only as the Trash Bag ep. Mystic records at some point re-issued it, naming it Get up and Die, along with the live bonus 7". Needless to say, this one's a true metal classic. This has the original versions of Woman from Sodom, Peepin' Tom, Goin Through Your Purse, and Get Up and Die. This album is a collectors item, so if ya ever get a chance to grab it, do so, it is pretty rare. I personally dig these versions better than on the Sex, Drugs, and Rock n Roll album. The live 7" has pre up the dose versions of "rock em sock em" and "Adultary", along with a song called "Having Sickie's Baby", which was never released before, and I have never heard of them doing other than this. Absolutely amazing and without a doubt a must have! Nothing tops this folks.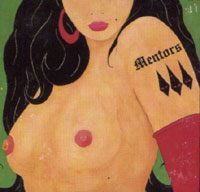 SEX, DRUGS, AND ROCK N' ROLL
This is a very strange and mysterious Mentors releases, while also being one of the easiest to locate. It is split into two parts, with the second half being primarily remakes of the 4 songs from the trash bag ep. The first part sounds more like a progressive-punk sound, if that makes any sense. Duce also sounds very young, and I do beleive it was recorded in the late 70's, though I don't beleive it was released until years later. They don't sound like your normal Mentors songs, besides the crude lyrics, but they rock. To my knowledge, they never have done these songs live, but they are great. I have never heard much about these songs, and I don't beleive they played them live, which is a mystery to me. The re-makes don't have the same punch as the originals, but they do put a strange twist on them. I believe the remakes are more recent. Police Hotel is a great song, and I am on an endless search for the original, version, which only appeared on a compilation many moons ago.
SOLO/RELATED PROJECTS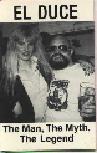 EL DUCE: THE MAN, THE MYTH, THE LEGEND
Though this album is done under El Duce's name, it actually consists of both he and Dr. Heathen Scum (who does both bass and guitar on this recording). Needless to say this one is a rocker, and is probably one of the best Scum/Duce recordings out there. The production is good, the drums are some of El's best, and Heathen shows that he can play a mean guitar. His style differs greatly from Sickie's, whereas sickie is more of a classic "metal" guitarist, Scum plays more of a crunchy rock n roll style. Hershey Highway, Quiet in the Squat, and Prolong Creme are pure classics. Other musicians lend their efforts to a couple of songs here, and it just adds to the color of the who album. The style differs from that which you here on Mentors recordings, primarily due to the different guitar player, but this one is pure rock n' roll. Complete with in depth linear notes, this is a sure one to pick up for anyone interested in checking out this true "man, myth, and legend". The lyrics are also some of the funniest he's penned.
El Duce/Dr Heathen Scum: MUSICAL PORNOGRAPHY
I believe this is the only Duce/Scum collaboration currently available on CD (though I have seen bootlegged versions of some other solo releases sell on ebay in cd format), and I must say, it's a rocker. Songs like Whorehouse Hoppin, Jack Pack, Einie Meenie Minie Moe, and Groupie Season are easily great beer drinkin, pot smokin party favs. The production lands itself somewhere in between Mentors quality and homeade quality, but you can clearly hear all of the instruments. Of course, there is no sickie, but heathen scum does an excellent job comin up with memorable shit, and rips it out alongside some of the Duce's best more recent drummin'. There are lots of good get drunk sing-alongs on here, and after 6 beers you will swear this is one of the best recordings you ever heard.
"Sex, Sex, Sex"-(Insect on Acid)- This is a release by longtime mentors companion, Insect on Acid. Insect has been friends with the mentors since the early days, and has filled in on drums in the past when Duce over-drinks. This album consists of Insect on drums and vox, Heathen on guitar and bass, and an occasional Duce on vocals. I usually dig most of the stuff from the mentor ring, but I must be honest, this album is terrible. I am not saying this only because of the lousy production (I can usually get by that), but the overall quality just, well.....sucks. Insect's drumming is so horrible, that even when Dr. Scum bangs out a decent riff, it falls completely flat.The vocals, with the exception to the few Duce cameo's are aweful. I find it very hard to comprehend how Insect, who plays a decent drum on Rock Bible, can come in and play this bad. Maybe I am mistaken on the trax he lays down on Rock Bible. Lyricwise, these are just stupid, not even close to the dooch. This sounds more like a joke than an album. This album is only a neccessity if you need to have the COMPLETE mentor and mentor-related collection.
Booze and Broads-(El Duce)- This is another Dr. Scum/El Duce collaboration, released in 92. The cassete comes with cool liner notes by Dr. Scum, giving a little info about each song. The cool thing about this recording is the noticable difference in styles between sides 1 and 2. The first side is full of straight-ahead, balls out rockers, with the highlights being "Punishment Time" and the killer "King of Sodom", both of which could have easily become Mentors classics. Side two, as scum puts it, is a little mellower, with some Stones-like guitar beginnings. "Sneak away from your man" is down right brilliant, right down to the cool keyboards. This song should be inspiration for anyone who wants to woo a slut away from her dude. There are some rockers on this side too, "Dead Danky" being one of them, tributed to Mentors stand in bassist Ed Danky (AKA Sneaky Spermshooter), who OD'd. This song has a morbid sound, which should appeal to most metalheads. All and all, this is an excellent mentors side project, which should appeal to most mentors fans.
"Motel 7" (MENTORHAWK)- This is an ep done as a collaboration between Dr. Heathen Scum and the guys from Hammerhawk. It consists of 5 tracks (one being a bonus track), with 3 of them being "mentorhawk" songs, plus "Last Hunter" and "Sex Slave" from Hammerhawk and the Mentors, respectively. Hammerhawk play some solid old school metal which sounds kind of like a more metallic Motorhead with some Maiden thrown in, definately a band worth checking out. Their song on this disc fuckin rocks! Sex slave is off of the Mentors "to the max" cd (see review). The 2 Mentorhawk originals, "Motel 7" and the unamed bonus track are both solid metal rockers with cool vocals provided by Scum and Thys Maniac. Killer grooves and slammin beats on these two songs. The packaging for this disc is pretty kick ass, done up with cool pictures and writing inside, as opposed the usual homeade products we usually see from the latter day Mentors ring. The only song I really don't dig on this disc is the rendition of the 4 F club. The music is cool but Dr, Scum's vocals are pretty bad on this song, which is strange because I usually really like his vocals on most of his other stuff. Other than that it's a cool disc, though I would have liked to see more songs included by Scum and Hammerhawk together.
"Houses of the Horny" (MENTORS)- This cassette is basically a 1994 Mentors demo of songs, that I assume would have been released on the next Mentors full length. Houses of the Horny has "Moosedick" on drums rather than Duce, who at this point had become too swamped in alcoholism to play consistantly, so he just sings. The sound on this is probably the rawest out of all the Mentors releases, but there are great songs here. Anyone who has the Maximum Metal re-issues of You Axed For It and Up The Dose, will have more than half of these songs as remastered bonus tracks (Kings of Sleaze, Service ME....etc). The versions on Houses of the Horny are the raw and unmastered versions of those songs, like rough drafts in a way. These are top notch Mentors songs, which shows them as an evolving band, never content to put out the same album twice. It's such shame that this is the last piece of work that the Mentors left, I really liked their development of style. To see this recording produced and released as a full length Mentors album would be great. Moosedick is definately an excellent drummer as well.
"Buttfucking Man" (El Duce/Dr. Scum)- This is one of the most raw sounding Duce/Scum releases, coming in second only to "Lock up Yer Daughters", but it rocks hard. It starts off with the excellent track, "Rape and Take", which, lyrically, is El Duce at his nastiest. Right from there it rocks straight into the slow groove of the title track, "Buttfucking Man." "Gypped by Love" is a strange song about a poor fella locked up for unwittingly getting involved with an underage gal. Plenty more excellent party songs follow. Overall the release is a rocker, and highly recommended for fans of the Duce/Scum solo projects. Definately one of the sleeziest Mentor related releases, this one is not recommended for anyone who is easily offended. For those of us who appreciate Mentortainment, we have yet another gem left behind by the late, great El Duce.